Description
Want to take French but not miss Spanish?  Want to take ASL, but go back and watch French recordings later?  Are you a teacher who wants to watch the methodology of one language, but learn another language as a student?
Upgrade to the Full Pass.  First register for one track, Spanish, French or ASL.  Add the upgrade to have access to all three tracks after the end of the week. $25.00 until June 30, 2021
Summer Language Institute, July 19-22, 2021.  Recordings will be posted and available for all 3 tracks by July 26, 2021.
SUMMER LANGUAGE INSTITUTE (Sign up for ONE track per person or full pass upgrade)
July 19-22, 2021, all times PACIFIC time
SPANISH, FRENCH or ASL
SPANISH TRACK, Pacific time $149.00
1. Novice Spanish 8:30-9:15 break 9:45-10:30 break  with Jason Fritze and Niki Tottingham (Incoming 4th graders and up).  Note that this class starts 30 minutes later to accommodate shorter attention spans for younger learners.
2. Intermediate Spanish, 8am-9am with Dahiana Castro break 9:30am-10:30am break
3. Advanced Spanish with Adriana Ramirez, La Marimba de mi Abuelo, 8am-9am break  9:30-10:30am break
Self-Defense in Spanish with Justin Slocum-Bailey and Erica Peplinksi-Burge, 10:45am-12:00pm
Partner for the self-defense class is recommended. Self-defense requires a partner.  Parents are invited to participate with their children.  Siblings are encouraged to sign up together.   Households can take different morning classes, but participate in self-defense together.
+Surprise musical guests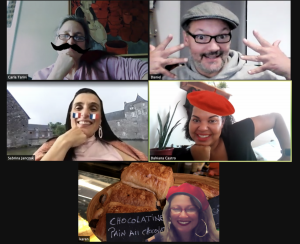 FRENCH TRACK, Pacific time, 8am-10:30am, Multi-level $149.00
Mystery French Walking Tours ending at Café de Flor with Daniel Kline Dubois
Tandem Teaching Storytelling with Daniel and Sabrina playing characters who frequented Café de Flor
Shopping list for recipe from Café de Flor to make during class provided prior to class

Cooking demo in French with those ingredients
Readings on Jean-Paul Sartre and Simone de Beauvoir, frequenters of Café de Flor
AMERICAN SIGN LANGUAGE, Pacific time  $99.00 until May 31, 2021
1. American Sign Language, the Basics Storytelling  for true beginners 8am-9am (4 hours)
2. American Sign Language, Beginners  Plus (24 hours of previous recorded classes recommended) 9:30am,-10:30am (4 hours)
8 hours total.  1 hour per day reviewing base vocabulary and 1 hour per day introducing new vocabulary through Storytelling.