Description
7 classes, LIVE on Zoom, Intermediate level Comprehensible French. 9am Pacific / 10am Mountain / 11am Central / noon Eastern
Daniel Kline Dubois, Sabrina Sebban-Janczak and Carla Tarini tandem teach a story-based class with no painful grammar exercises or homework.
What our students said about our tandem teaching French classes:
You get lost in the story or conversation and the language just sneaks into your head. The teachers make the language comprehensible to everyone by layering the language and repeating parts in a natural way.
This class has helped me improve my understanding of the language. Sabrina, Daniel, Carla and Dahiana have made this class very comprehensible. The rate of speech is slow, there is repetition, translations are provided in the chat box when needed. The engaging stories are created by the participants and include high frequency words and cognates in French.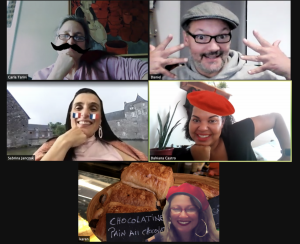 I highly recommend this class to anyone who wishes to acquire French.
I like having Carla around to help  (in the chat box) when I don't understand. Carla does a great job in multiple capacities
J'adore les petits histoires!
Je suis d'accord.  Le vocabulaire répétitif est utile.
This series of stories has been great (i.e. a new one each time)
The stories, vocabulary, natural conversation among Sabrina, Carla, Daniel and Dahiana are what help me learn.
These classes  are the best thing going anywhere. Hope you can keep them going!
Sunday mornings are always a delight with Sabrina and Daniel and all of my French classmates.
I love the co-teaching. it makes the CI (Comprehensible Input) much better!
Class 1: April 18
Class 2: April 25
Class 3: May 2
Class 4: May 9
Class 5: May 16
Class 6: May 23
Class 7: May 30
$155.00