French PRE-RECORDED
French classes at multiple levels that were recorded live are available for independent viewing my language learners OR for use in language classes by French teachers.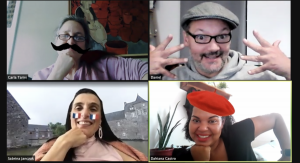 Our level 1 Beginning and Beginning-High classes were taught on Zoom and can be purchased separately or in a bundle of Independent Study, level 1.  These classes were taught by Sabrina Sebban-Janzcak, Daniel Kline Dubois, Carla Tarini and Dahiana Castro.
DonnaTatum-Johns recorded a live French class in 2010 that is available on DVD or online.  Contact us by email to inquire about DVD copies.
Intermediate French classes with Sabrina, Daniel and Carla in 2020 and 2021 were taught on Zoom and are in a series labeled by date beginning in April 2020.
Showing 1–9 of 12 results